INFORMATION FOR RESTAURANTS, CATERERS, BAKERS AND MANUFACTURERS
Our oil is

cost effective

, even against the cheapest refined oils; many caterers tell us that

our oil

does not 'foam' when frying (unlike the highly processed refined oils that are promoted as "extended life rapeseed oil") and so

lasts much longer between oil changes

. This combines with full traceability for your customers who demand a quality, well known and trusted brand of cooking oil. We are "Red Tractor" certified and have won "Grower of the Year" in both 2015 and 2016 with Select Lincolnshire.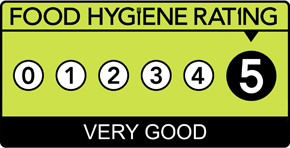 Come on! Join the many other top quality caterers who are now using our home-grown rapeseed oil.

Supplied in 5 litre and 25 litre cans for the catering trade. Please contact us for trade prices and delivery on 01400 273989 (answer-machine if we're out and about) or email us on: ownsworthsmail@gmail.com asking for Andrew or Ronnie.
Recipes and advice always available.
We have trade customers buying our oil for a variety of uses, so i
f you are an artisan producer looking for a quality rapeseed oil f
or your special product,

please contact us and we will be more than happy to help!