'Lincolnshire Day' Celebration Pizza
This large, fun pizza is so quick and easy to make for the family or a celebration party. We've used so many ingredients in the recipe from Lincolnshire producers and suppliers and you can find their contact details at the back of this book.
Fresh Tomato Sauce
7 oz ripe tomatoes, skinned and chopped
1 tablespoon Ownsworth's Rapeseed Oil
1 small onion
1 to 2 garlic cloves, crushed
2 teaspoons tomato paste or ketchup
½ teaspoon sugar
Handful of basil, chopped
Salt and pepper
Pizza Base
350g (12oz) self-raising flour
1 tsp salt
2 tablespoons Ownsworth's Rapeseed Oil
240ml (8 fl oz) milk
"Lincolnshire Producer – Toppings"
Cote Hill Blue Cheese
2 to 3 slices of Lincolnshire Chine
2 Yellow Bell Peppers
Small broccoli florets (part cooked for 5 to 10 minutes until just soft)
Fresh Tomato Sauce Method
In a frying pan, fry the onion, and garlic in the rapeseed oil, gently for 5 minutes until softened but not browned.
Add the chopped tomatoes, tomato paste or sauce, sugar, basil, salt and pepper and stir.
Bring to the boil, cover and simmer gently for approximately 15 to 20 minutes, stirring occasionally. You will then have a nice thick sauce. Cool, whilst you make the pizza base.
Pizza Base Method
Put the flour and salt into a large mixing bowl combine.
Measure out the milk into a measuring jug and add the 2 tablespoons of rapeseed oil. Pour into the mixing bowl with the flour and using a wooden spoon (or your hands) mix in quickly to form a soft dough ball.
Turn out onto a floured work surface and roll out into a rectangular shape, (cutting or shaping until you have a nice regular flag shape). You are now ready to create your "Lincolnshire Food Flag".
Lincolnshire Flag Toppings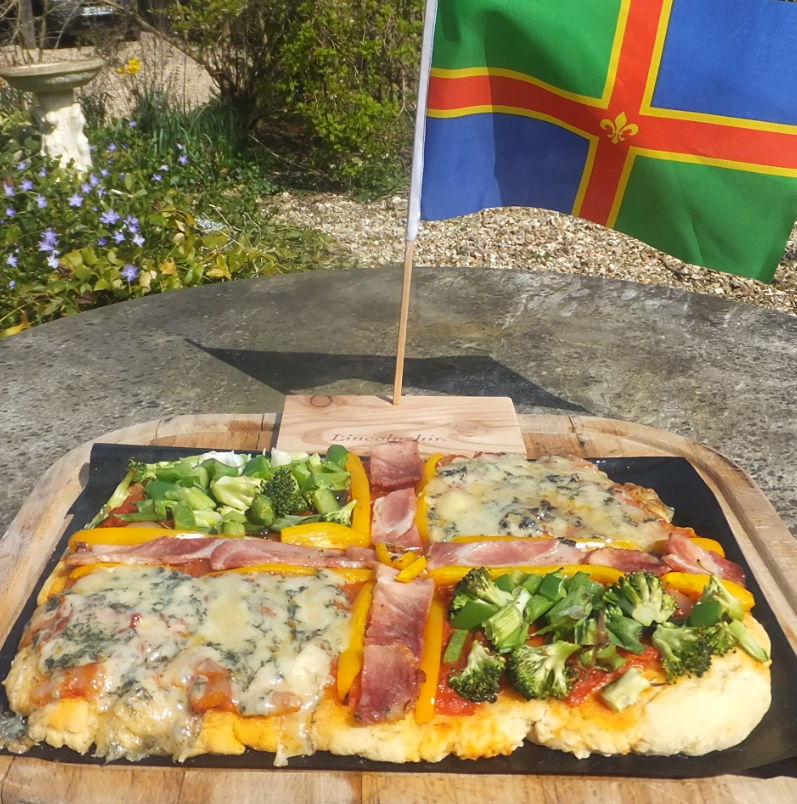 Spread the cooled tomato sauce over your pizza "flag" base.
Cut the Lincolnshire Chine into ½ to 1 inch strips and place on the pizza vertically and horizontally to form a cross.
Along the edges of this cross, line with strips of yellow bell pepper
On the top left and bottom right quarters, fill in with small broccoli florets you have previously part cooked drained and cooled
On the top right and bottom left quarters, crumble Cote Hill Blue cheese over the sauce
You should now have completely covered your pizza base Lincolnshire flag. Place on a lightly oiled baking tray and put into a pre-heated oven (180 ˚C/350 ˚F/Gas Mark 4) for approximately 15 to 20 minutes or until golden and nicely crisp.
You can google "Lincolnshire Flag" to see exactly the design you are following
The colours of the flag and their meaning:
RED – the red cross is the Saint George's cross representing England
YELLOW – represents the crops grown in the county as well as the nickname "Yellowbellies" meaning people born and bred in Lincolnshire
BLUE – represents the sea on the east coast of Lincolnshire as well as the big blue skies of Lincolnshire
GREEN – represents the rich lushness of the Lincolnshire Fens
FLEUR DE LYS – represents the City of Lincoln
Remember this scone base pizza recipe can be used for any day of the year and you can add any toppings you like – just get creative and find things in your fridge or larder
At Ownsworth's we love using seasonal and local ingredients in all our recipes and love to hear from other producers so we can create even more recipes using their produce and we are always on the look out for new food producers, growers and rearers.