About Us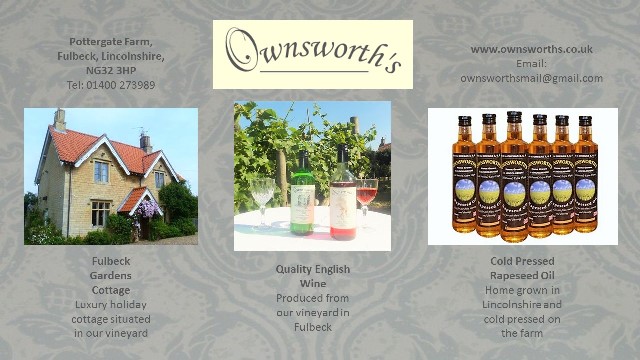 Our family has been farming for several generations and our aim has always been to create
top quality
produce which is reflected in our farm being "
Red Tractor"
certified. On our mixed arable and stock farm in Fulbeck we grow wheat (our milling wheat is on contract to
Warburtons Bakery
and we won
Northern Regional Grower Award in 2009
), barley for malting and oilseed rape (we have won
Grower of the Year in both 2015 and 2016 for our rapeseed oil from www.selectlincolnshire.co.uk
). Our herd of pedigree Charolais cattle graze in the ancient parkland surrounding our vineyard and
award winning
self-catering holiday cottage
www.fulbeckgardenscottage.com.
Our team is run by me
Andrew,
and my wife
Ronnie
. I am the farmer in charge of the overall running of our farm and drive the combine harvester at harvest time. You will see us both working on the farm, pruning at the vineyard, meeting and greeting customers down at the holiday cottage and and attending some local food and county events. We like the hands on approach. Eldest son,
Tom
, qualified at Riseholme Agricultural College in Lincoln and is now a partner in our business and assists me in the day to day running of the farm, as well as head stockman for our herd of suckler cows ably helped by his farming partner and fiance,
Laura
.
"Tommo"
is our new lad and is proving a valuable member of "Team Ownsworth". Youngest son,
James
, helps my wife in sales and marketing of our rapeseed oil in between studying Engineering at Lincoln and the very adaptable
Nicola
comes in every Monday to help in the office. A couple of casual workers at harvest and that's our small, but efficient team at Ownsworth's. Wife, Ronnie, also runs our holiday cottage.www.fulbeckgardenscottage.com and has won several awards for her high standards of presentation, cleanliness and facilities at the cottage. So as you can see, we have a
passion for what we do and work hard as a team to bring you the very best quality local rapeseed oil we can and we know that matters to you and that you will pay for that quality.
We love comments and feedback from our customers of our farm, holiday cottage and produce, especially for
our high quality, fully traceable rapeseed oil
and how
versatile
it is in your recipes. Our
"Ownsworth's Rapeseed Oil"
is
grown, pressed and bottled by us
on
our
farm - proving
our commitment to you to
provide the complete "
farm to fork"
rapeseed oil. Unlike many other big brands who can mix different varieties of oilseeed rape from many British growers (or even mix with oil brought in from all over the world) here at
Ownsworth's
Rapeseed Oil
we bottle our rapeseed oil for you using our own specially selected seed,
grown in the limestone and ironstone
soils of our farm in our village of Fulbeck.
This gives us that
rich golden colour
and
delicious taste you won't find anywhere else
- and as each season's growing conditions are naturally different, you could say our single variety rapeseed oil reflects that we have an annual "vintage". So if you're not wanting a blended, mass produced British rapeseed oil - it has to be
Ownsworths!
Ronnie is constantly coming up with new ideas for baking and cooking with our "better for you" pure rapeseed oil and in March 2015 produced her very first cookery book
"Ronnie's Rapeseed Oil Recipes"
- see our
home page
to purchase a copy. More and more customers are asking her about cooking and baking for gluten free, dairy free, vegetarian and vegan diets especially. You'll find photos and some of her recipes in "Ronnie's Blog" on our website, on our @Ownsworths Facebook and Twitter pages. Our three children and their partners love to try out her new recipes, so you can rest assured the recipes are well tried and tested ready for you.